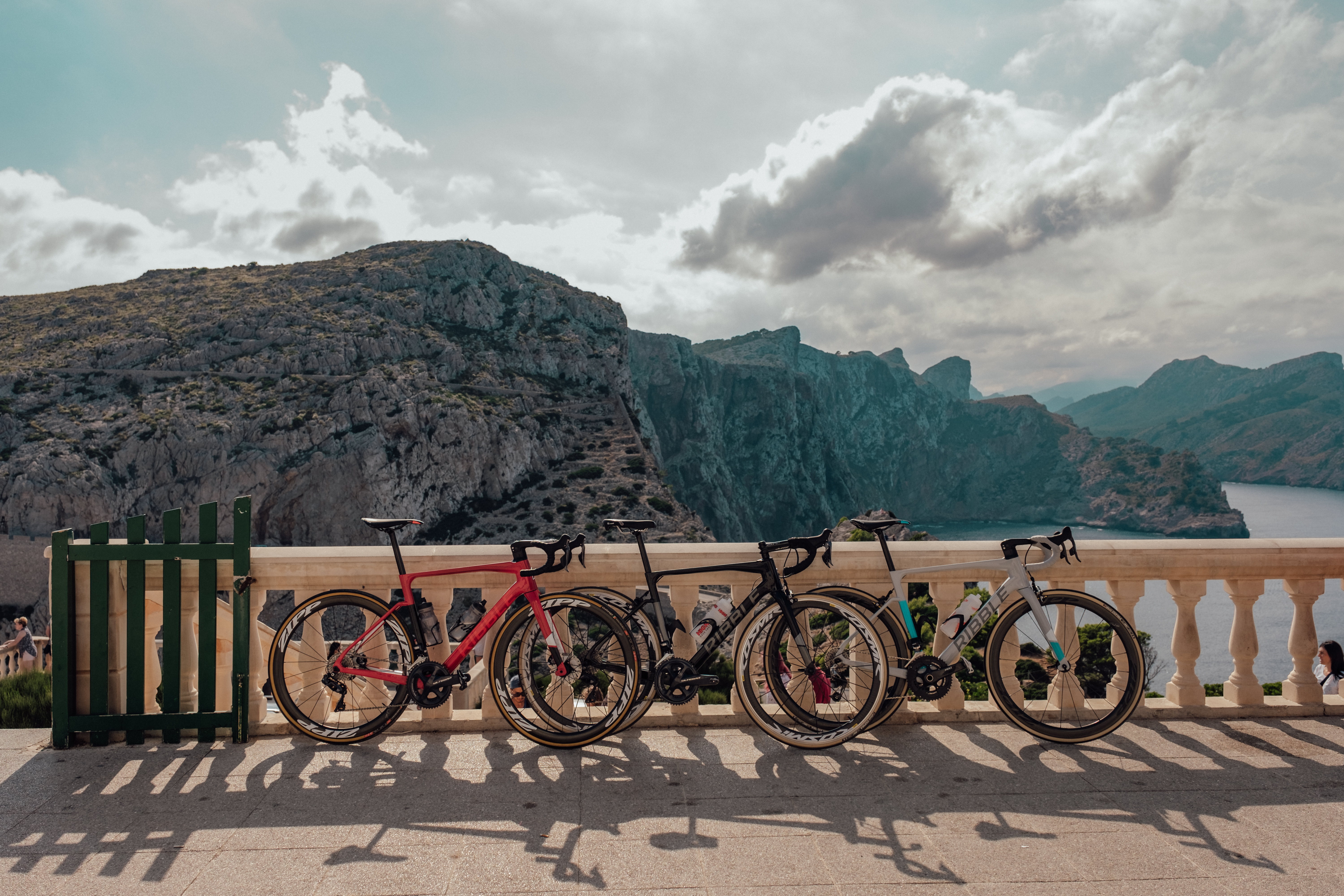 Shopping for a new bike is an exciting time, right? But, when faced with such a wealth of bikes to choose from, how do you ensure that you get the right size? Choosing the correct size road bike couldn't be easier. As long as you are armed with the right information, of course. Check out our guide to find out what works best for you.
Women-specific bikes
We like to think of all riders as being individuals, and our priority is in making sure that the bike is right for your body shape, size, and personal preference. Consequently, all of our bikes are unisex in design and are fully customisable to achieve a fit that's perfect for you. The crucial element to getting this right is to ensure that the sizing of key components is correct. Most notable of which are the handlebars, handlebar stem and cranks. Specifying a ladies specific saddle is always highly recommended too, of course.
Back to basics
Firstly we should address what exactly is meant when we refer to 'geometry'. In short, it is simply this; geometry encompasses the shape, length, and angles of the tubes that come together to form the frameset.
For example, the image to the right shows each section of the frame and links it to the dimension in the chart below. For instance, an XS frame has a top tube (B) measurement of 52 cms whereas the S has one that is 53.5 cm.
The geometry of a bike affects the position you will find yourself sitting in, how the bike handles and its aerodynamic performance. A racing cyclist, for instance, will prefer a more stretched out position for improved aerodynamics. A mountain biker, on the other hand, needs a more comfortable, upright riding position. One that offers a head-up riding position that enables them to pick their lines and enhances the stability and control of the bike.
1. Measuring your height and inside leg
The first step is to determine your height and inside leg measurement. Do you know these? If not, we have you covered. Here are some simple tips to help you measure these. The methods described below are easier with the aid of a helpful assistant. However, you can also obtain the measurements yourself in the absence of a willing volunteer.
Height
Simply stand upright in bare feet, with your back against a wall/door frame.
Place a pen or pencil atop your head and parallel to the floor.
Make a small mark on the surface and measure.
Inside Leg
In bare feet; stand upright with your back against a wall.
Place a book/ruler between your legs and level with your crotch.
Have someone measure the distance from the top of the book/ruler to the floor.
2. Frame Size
OK, now that you have your height and inside leg measurements, it's time to apply them to your bike of choice. The good news is that we have done the hard part for you. Each bike on our website has a recommended height range for each individual frame size (see image). This height range isn't just based upon default factory measurements. We have collated data gained through numerous real-world measurements taken in-store and via test rides.
If you find that you fall between 2 sizes, the general rule of thumb is to opt for the smaller size. Why you may ask? Well, it's because it's generally considered easier to make a bike that's a little small fit than one that's too large. There are certain alterations that you can make to a smaller bike to correct the sizing.
These include: lengthening the stem length, crank length and raising the saddle height. It is much more difficult to adjust a bike that is too large to fit the rider. After all, a seat post can only drop down so far. Whereas fitting too short a stem can result in overly responsive (twitchy) steering.
Alternatively, if you live or work in close proximity to one of our showrooms, we would thoroughly recommend visiting one. In-store, our friendly and knowledgeable experts can help you with everything from picking suitable components to measuring you up on one of our sizing jigs. Using these jigs we can simulate the specific dimensions of frame size and adjust the fit to get it just right for you.
However, if visiting a showroom is not possible, we can also deliver the showroom experience direct to you. Simply connect to one of our Live Instore Experts via a live one-way video call. Our experts can answer any queries you may have, offer advice on sizing and component choices or even provide a product demo of each bike. All from the comfort of your own home, and remember it's completely anonymous. You can see us, but we cannot see you.
To connect with a Live Expert simply visit our website and click on the image in the bottom right corner of the screen.
3. Key Components
As we alluded to earlier, there are several key components that are customisable and which ensure that the bike you receive is right for you. Whether you're male or female, the rules to obtaining the correct measurements apply to both equally. In direct contrast to an 'off-the-peg' bike where the components choices are preset, we offer an almost unlimited choice of customisation options.
Handlebar width
Have someone measure the distance between the AC joints of your shoulders (the 2 knobbly bits to the front of your shoulder, where the collarbone and shoulder blade meet).
With the odd exception, most handlebar manufacturers will quote handlebar widths as a centre to centre measurement. This dimension is normally obtained by measuring the bars from the centres of each drop. However some manufacturers such as Zipp will measure them from centre to centre across the tops.
If they are a centre to centre model, (like our own LEVEL brand) simply add 2cms to your shoulder measurement to obtain the correct width. If they are measured from outside to outside of the drops, add 4cms.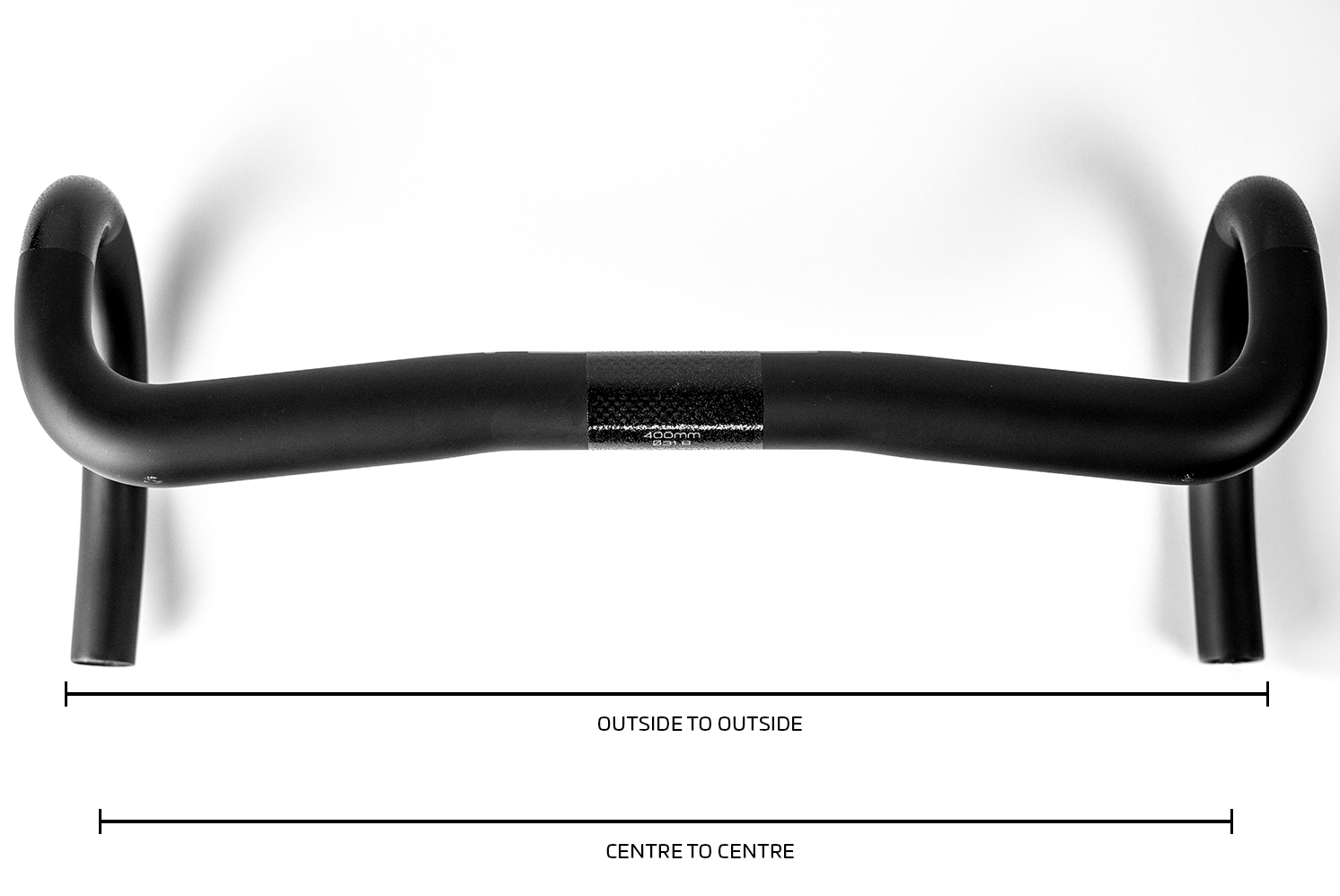 The 2 most common ways that manufacturers denote bar width is centre to centre or outside to outside
Handlebar stem
Unlike handlebars, there is no magic formula to help you ascertain the correct length of the handlebar stem. The only way to accurately determine this is to book a professional bike fitting or visit one of our showrooms. Given the general trend of female riders being shorter in the torso and long in the leg, we find that a shorter stem length works better.
The average male rider will normally opt for a stem length of between 90 and 120mm. Whereas a stem length in the region of 70-90mm is better suited to the female rider. Broadly speaking, the smaller the size of the frame, the shorter the stem should become.
When you select a frame size on our website the handlebar and stem lengths will default to our recommended size for that particular size. However, should you then change the size, these will decrease or increase correspondingly. You then have the option to amend these manually by clicking on 'customise bike'.
Crank Length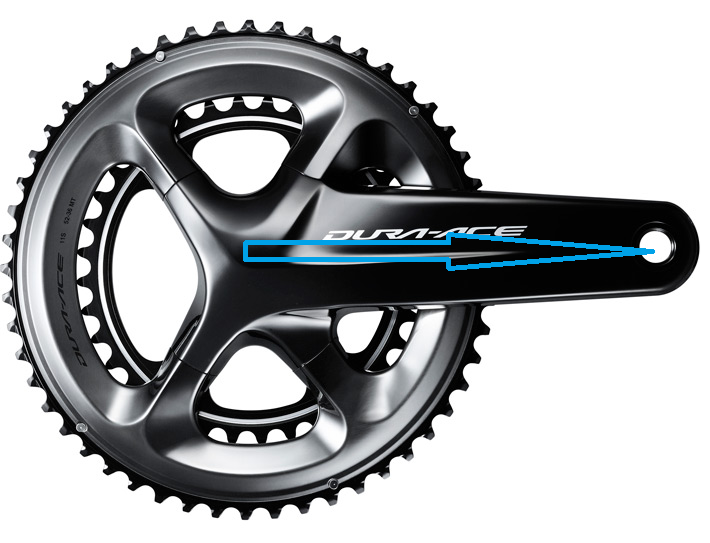 The length of the crank arms (the bit that your pedals screw into) can have a significant impact on both comfort and performance. Choosing the correct length of cranks can help prevent sports-related injuries, increase power transfer or make climbing easier. Too long and you could find your knees clattering into your chest on the upstroke. Too short and you could find yourself losing out on the valuable power output generated by your long levers.
Most components manufacturers will offer chainsets with a crank length of 165, 170mm, 172.5 and 175mm (this measurement is taken from the centre of the pedal axle to the centre of the cranks, as per the image above). The commonly held belief that the size of the bike should dictate how long the cranks are is a bit of a myth.
Riders who require smaller bikes in the XS/Small range will definitely benefit from shorter cranks. The smaller the bike the less gap there is for the front wheel to clear the frame's downtube. But in practice, it all comes down to personal preference as much as it does the size of the bike. There are, however, a couple of formulas for determining what length of cranks would work best for you.
Firstly, this formula calculates crank length based on 9.5% of your total height in cms. If we take a rider of 185cms height, for instance, 185x9.5= 17.575. So, a 175 crank would be the ideal option for that rider. To muddy the waters slightly, this does not mean that this rider must only ever use 175 cranks.
They may prefer a faster-pedalling rhythm (cadence) and in this instance, a slightly shorter crank may be more to their liking. A faster cadence is less impactful on the muscles but it could be less efficient at cranking out the power.
Secondly, there is the inseam method. Take your inseam measurement in cms and multiply by 1.25 then add 65. If your inseam is 83cms then it works out as 83 x 1.25=103.75+65 =168.75. So, using this method you would round up to the nearest crank length of 170mm.
Saddle
As individuals, our anatomies are all very different. What may be comfortable for one person may cause discomfort for another. This makes it very difficult to pinpoint exactly what saddle will be comfortable for you. What is essential though is to ensure that it offers the right support for your sit bones (pelvic bones). Thankfully, there is a very simple method for measuring how far apart your pelvic bones are. All you need is,
A flat bench or chair to sit on
A flat object that sits lower than the seat, that you can rest your feet on. A stool, box, or bench for instance.
Piece of corrugated cardboard.
Tape measure.
Chalk (optional)
Take the cardboard and lay it on the seat.
Lower yourself onto the cardboard so it is aligned under your buttocks.
Raise your feet and place them on the lower footrest.
Try to simulate the position you would normally adopt when riding a bike. If you like a relaxed position sit more upright. If you prefer a more aggressive race position lean forward.
Hold this position for approximately 30 seconds.
Stand up and retrieve the piece of cardboard.
You should be able to make out 2 clear indentations imprinted upon the cardboard. These are produced by the sit bones and can be used to calculate your ideal saddle width. If you can't make out the indentations clearly, take a piece of chalk and rub it across the cardboard to bring out the indentations.
Next, take the tape measure and measure the distance between the indents. Use the centre of each as your start/finish points.
You can now apply this information to choose an appropriate saddle for your preferred style of riding. All saddles have a defined width so just find the one that best suits you.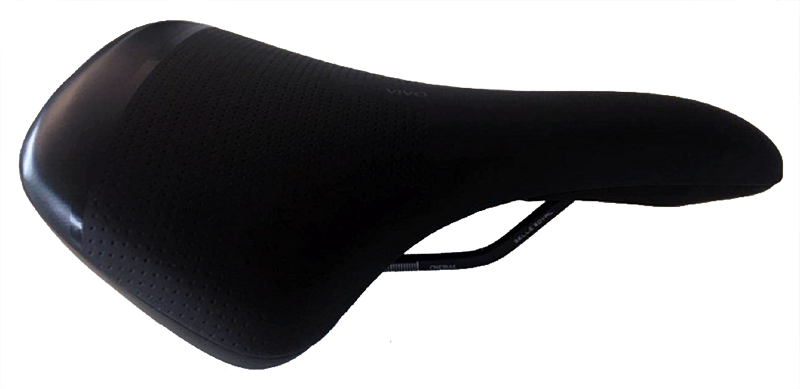 Hybrid/Gravel/MTB
Add 20mm to the measurement, this will add more stability and comfort when assuming a more upright riding posture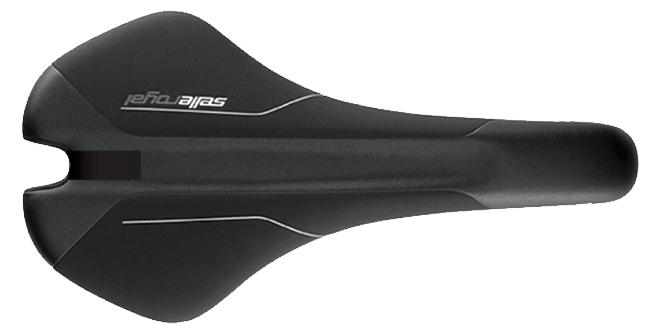 Endurance Road/Gravel
Add 10mm to the measurement, this saddle offers a good compromise between comfort and performance.
Further assistance
We hope that this guide has been of assistance to you, and helps you to work out what sizes you need.
Visit us
However, there's no better way to perfect the sizing and fit than to come in and see us. That's why we now have multiple showrooms located across England. Visit us for personal sizing guidance and to receive excellent buying advice from our team of friendly, professional and knowledgeable experts. Not to mention that you also get to see our range of bikes in the flesh of course.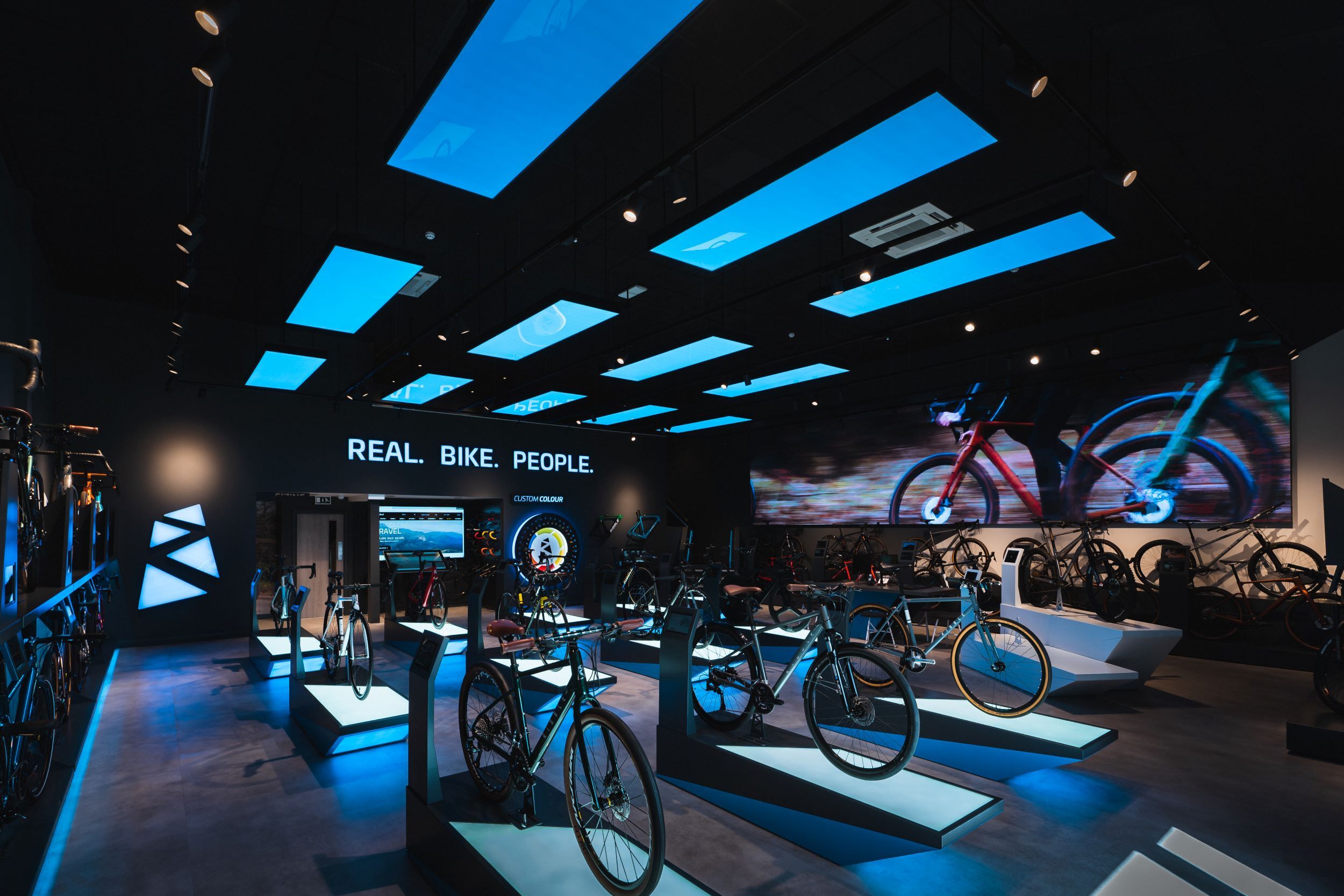 Situated in the heart of the Ribble Valley, our flagship Clitheroe showroom offers you a bike shop experience like no other.
Additional contact methods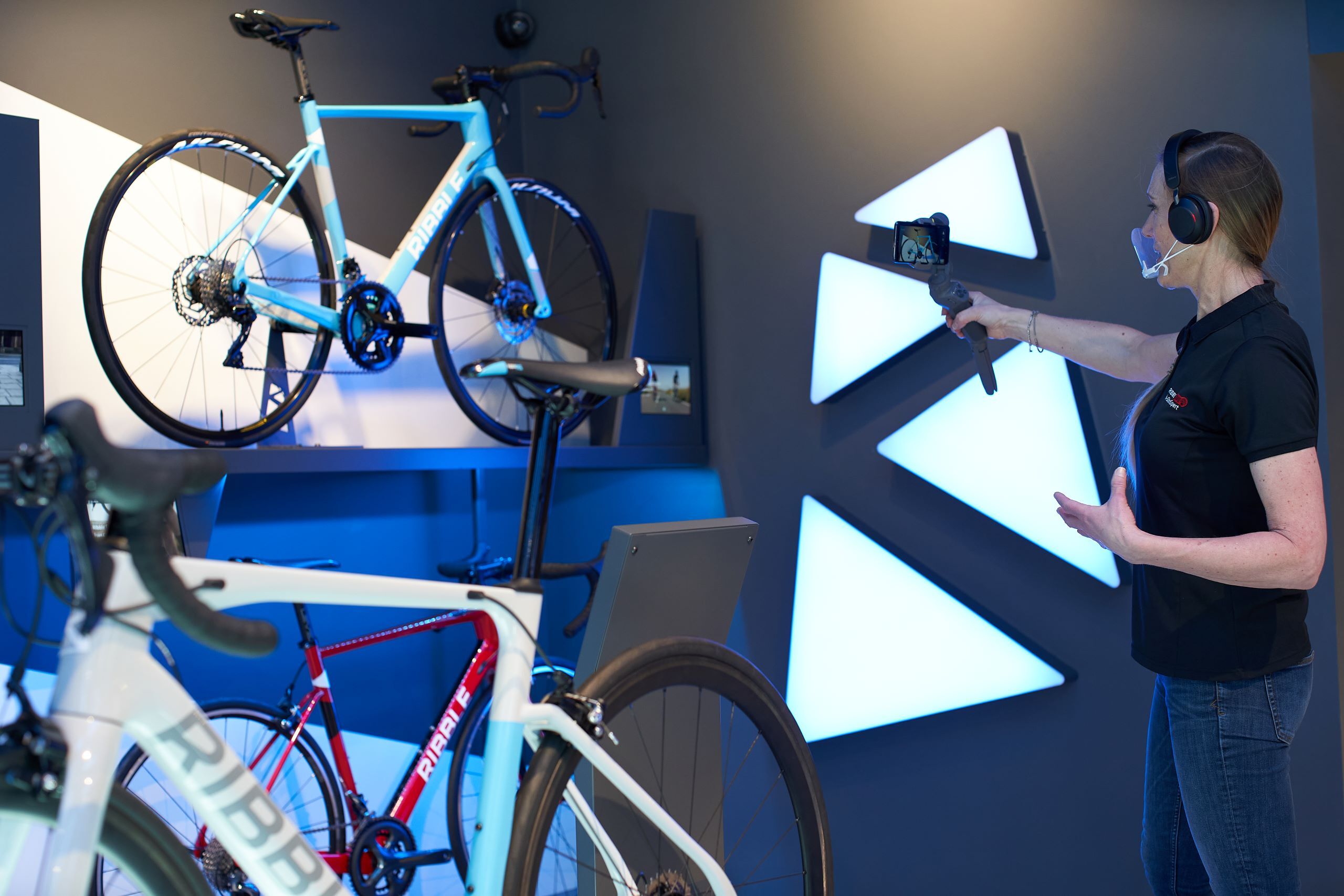 By Video Call
By far one of the best ways to get in touch is to use the Ribble Live In-Store Expert function. This service brings the in-store experience directly to the comfort of your own home. Simply click on the icon that appears at the bottom right corner of the website to be connected to one of our Instore Experts. It's a one-way video call so you will be able to see us but we cannot see you. They can take you through everything from sizing to build options and even offer close-ups of the bikes and equipment on their hand-held cameras.
Customer Service
Our customer service team is available to take your call 7 days a week and until late in the evenings on weekdays. Contact the team directly for friendly advice and assistance.
Social channels
You can also contact us through the usual social channels, by direct message through Twitter, or by private message through Facebook, Whatapp or Instagram.
---
How good is the HT Ti? Well one lucky owner sure loves his, read Jamie's story here.
---
New to cycling? Find the answers to the most common first-year questions here.
---
Looking at ordering a new bike but aren't sure what gears you need? Our gearing explained guide is here to help you decide what suits your needs best.