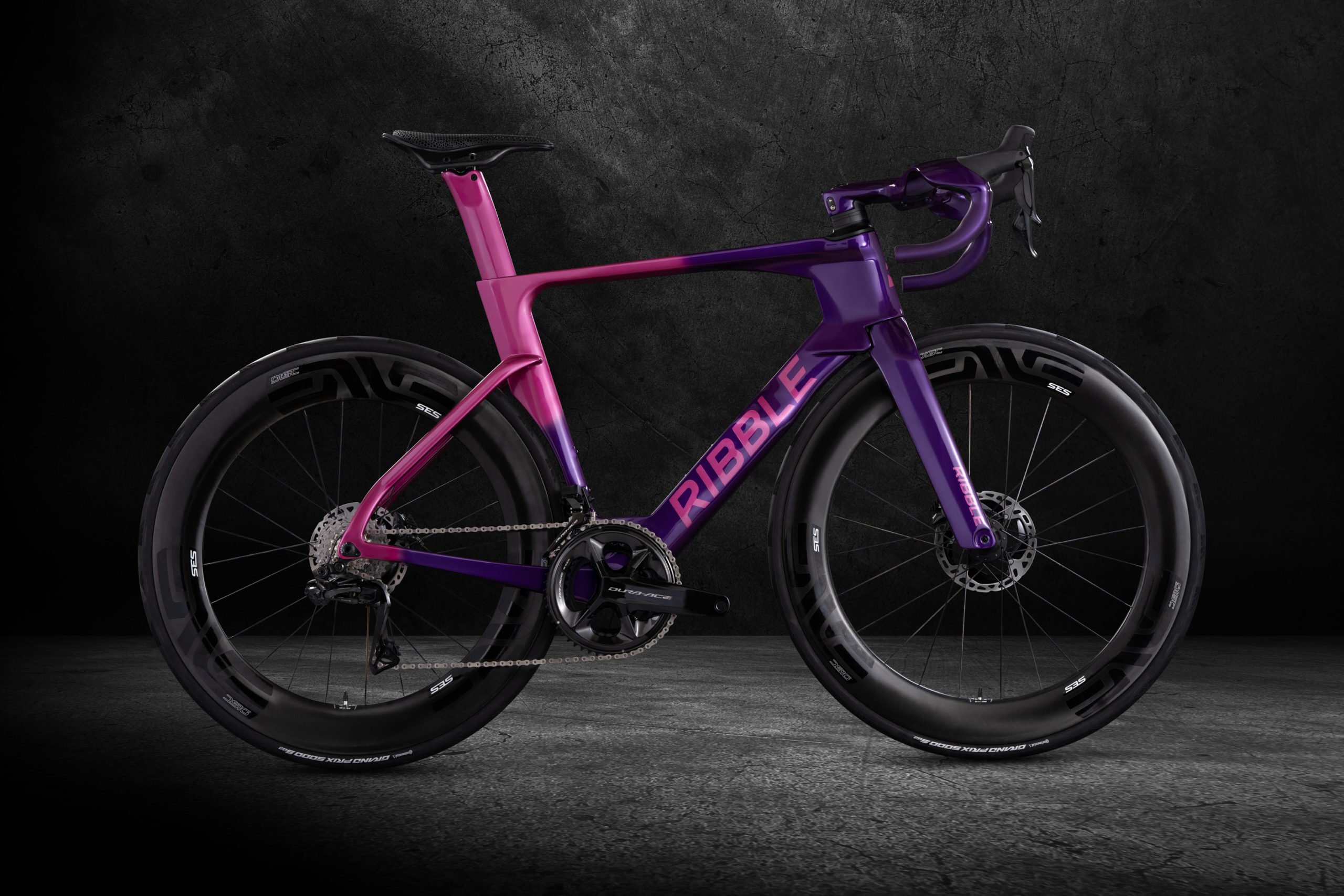 Ribble CustomColour lets you create your one-of-a-kind dream bike. Within our BikeBuilder tool, you can choose from a palette of 35 colours, add a gradient, and mix fades to bring your vision to life. With thousands of colour options to choose from, you can enjoy the ultimate bike customisation experience. In this guide, we show you how to add a Ribble CustomColour within BikeBuilder. Your Bike. Your Way!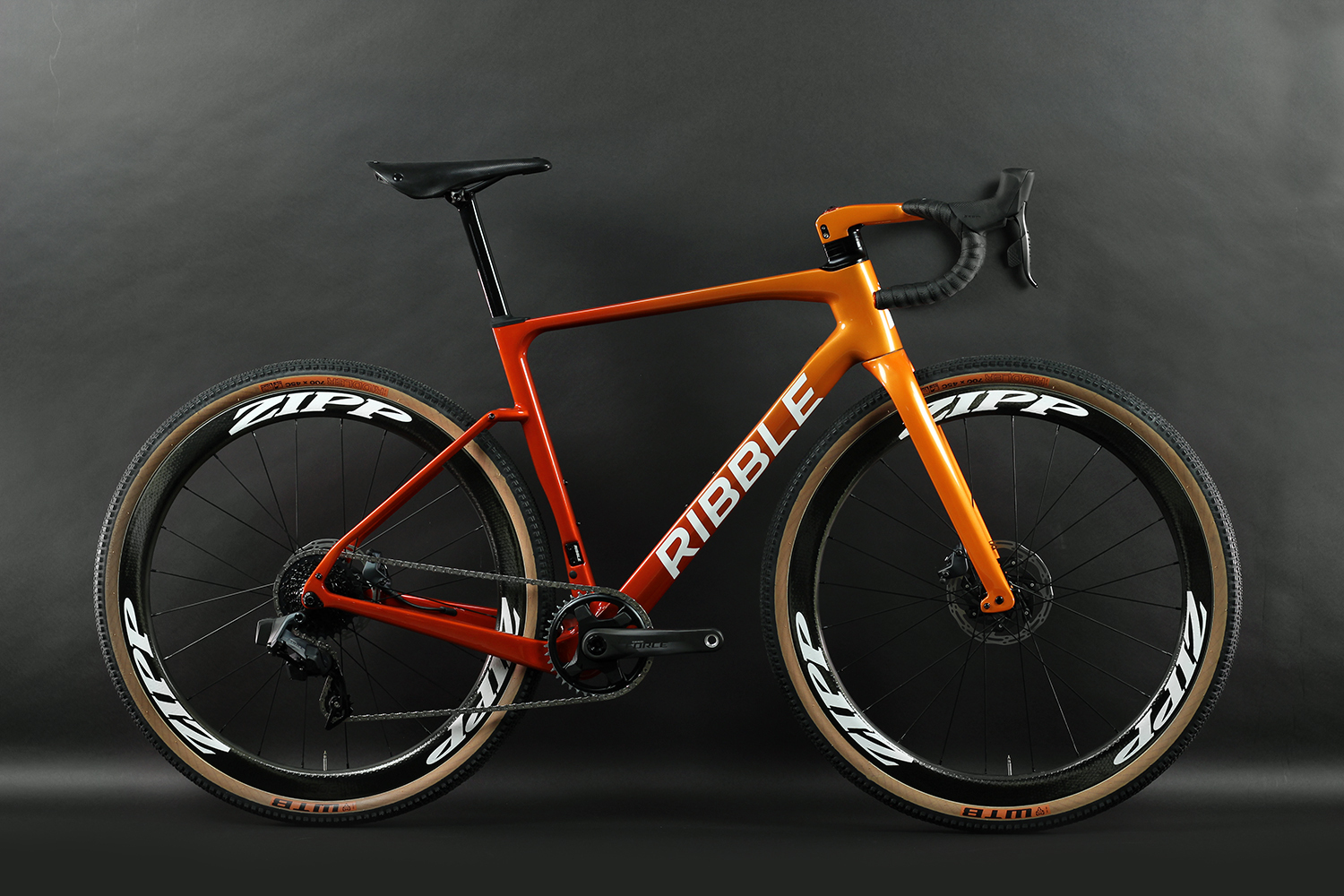 A CGR SL carbon all-road bike sporting an Orange gradient CustomColour design.
The CustomColour configurator gives you complete control of how your new bike will look. So why not get creative and add your personal touch to design a dream bike that is indelibly yours. Below is a step-by-step guide to CustomColour, how to add your own unique design and what the various options are. The basic cost for a CustomColour starts at £299 (£500 on the Ultra SL/SLR), with various options being available for an extra cost.
How to create your CustomColour dream build
The CustomColour tool is part of our BikeBuilder customisation menu, so you need to access BikeBuilder before you can begin the process of designing your masterpiece.
1. Choose your bike and click 'Choose Size' to load BikeBuilder.

2.Select the correct frame size for your height range..

3. Click the 'Customise Bike' button(highlighted in Blue at the bottom of the screen).

4. Select 'Style' from the tile menu.

5. Click CustomColour to open the CustomColour tool.
The Ribble CustomColour Configurator
The CustomColour tool allows you to bring your vision to life and design your dream bike just the way you want it. It provides you with countless customised paint options, so that you can create a bike that is indelibly yours. There are literally thousands of colour combinations to choose from, so go ahead, and let your imagination run wild.
Each time you make a selection, the image will change to reflect your current design. As an added bonus, you can download an image of your masterpiece to display your creative talents to unwitting friends and family too!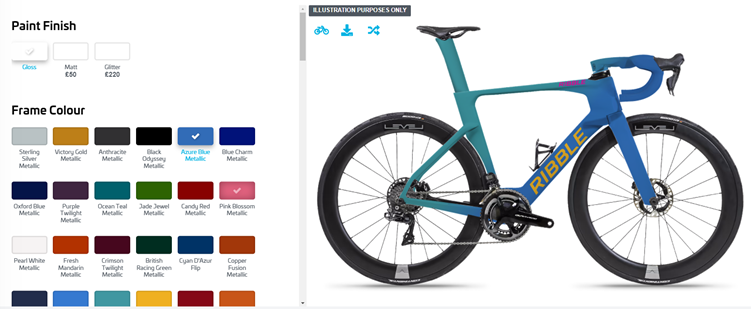 This image provides a small snippet of how much customisation is possible and how the right-hand image changes to reflect your selections.
Steps to design your dream bike
Step 1. Paint Finish
There are two paint finishes to choose from; Matt or Gloss. The default finish is Gloss, whereas Matt adds £50 to the cost.
Gloss
The default Gloss paint adds a highly reflective sheen for a slick, contemporary look.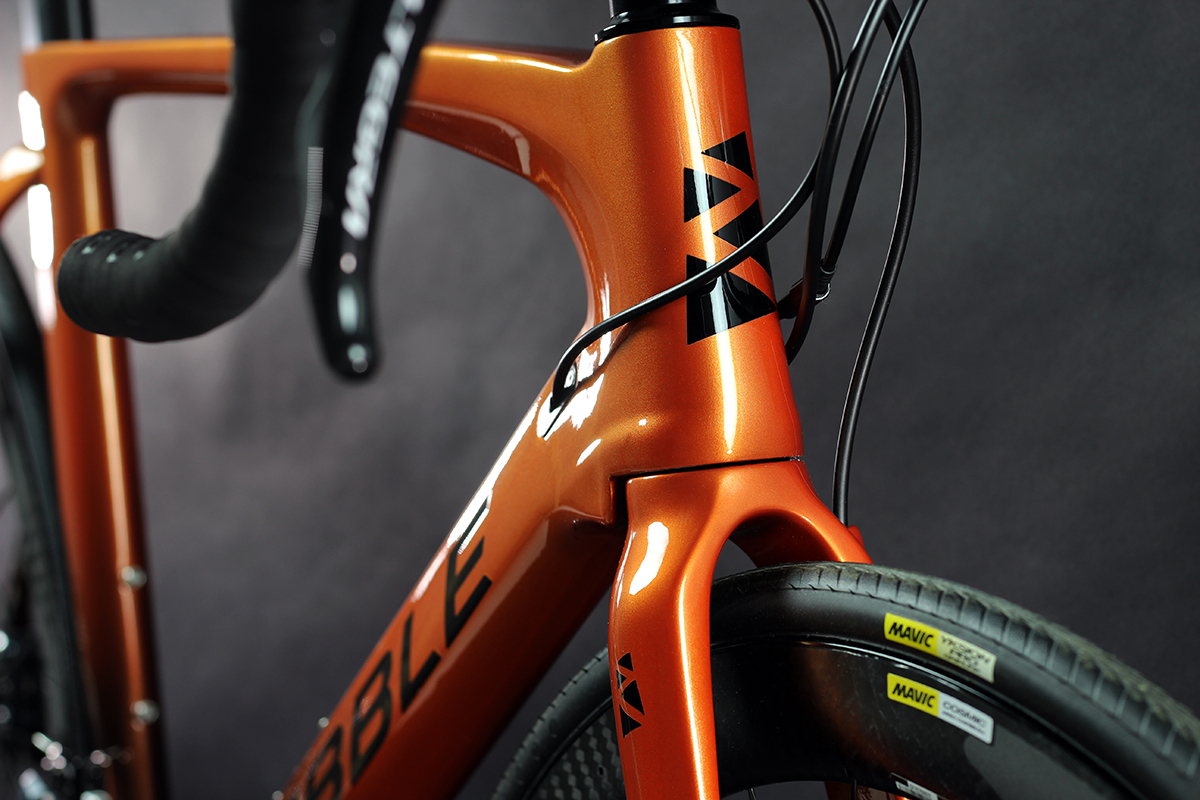 Matt finish
The Matt look is extremely popular thanks to its ability to soften up the look and accentuate every shape and curve of the frame.
Step 2. Frame Colour
Select the main frame colour. You can choose a single solid colour throughout or opt for a two-colour fade (gradient, see step 4 for more information).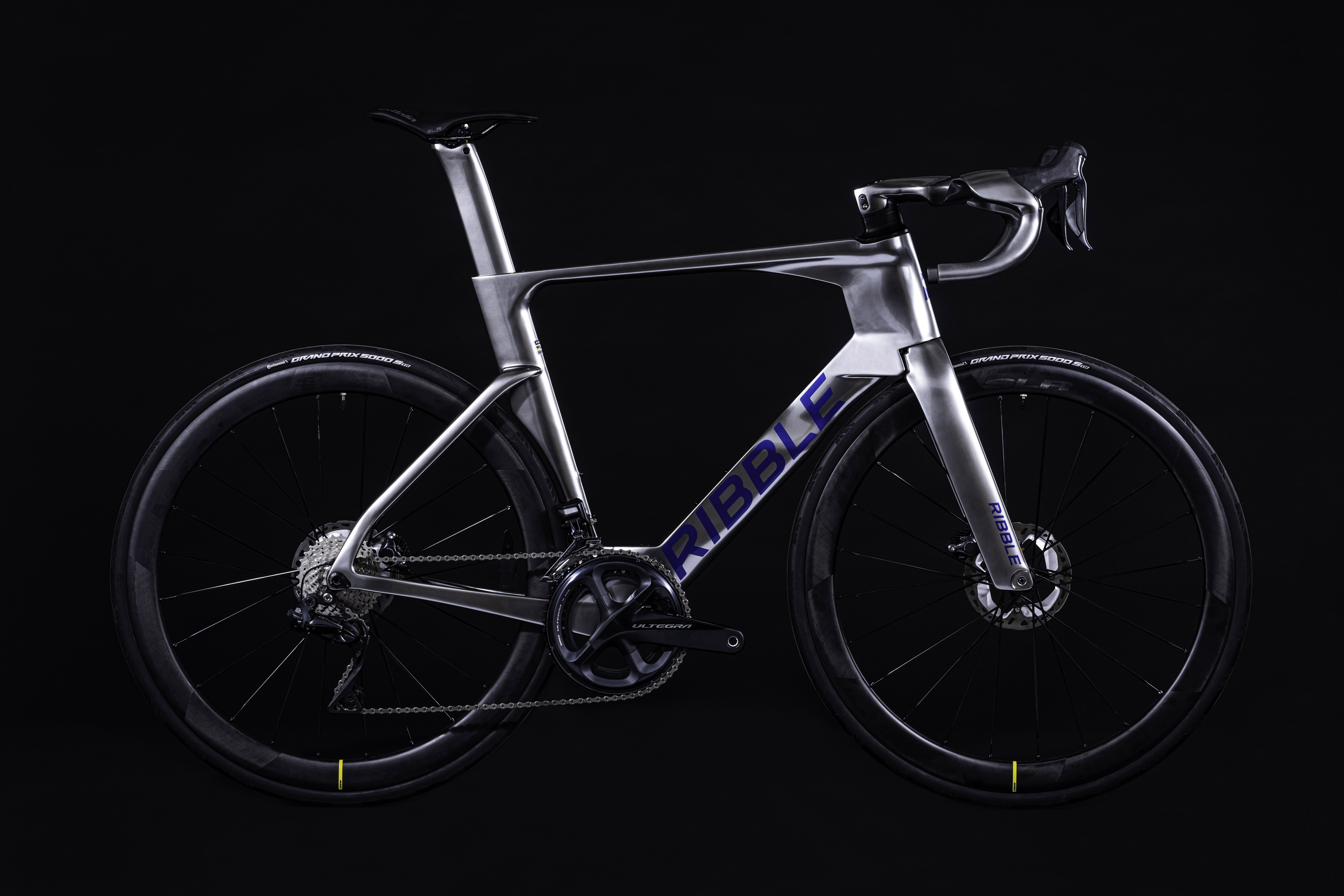 This stunning Ultra SL R propelled Finn Crockett to Commonwealth Bronze in 2022.
Step 3. Decal Colour
Choose which decal colour you prefer. There's no shortage of options, with 17 colours to pick from.
This stunning example of the Endurance SL e stealth e-road bike features a Blue into Anthracite fade with Rose Gold decals.
Step 4. Gradient
Feeling extra creative? Why not add a second colour to the frame by adding a 135° gradient to create a stunning two-tone paint finish like the one pictured below.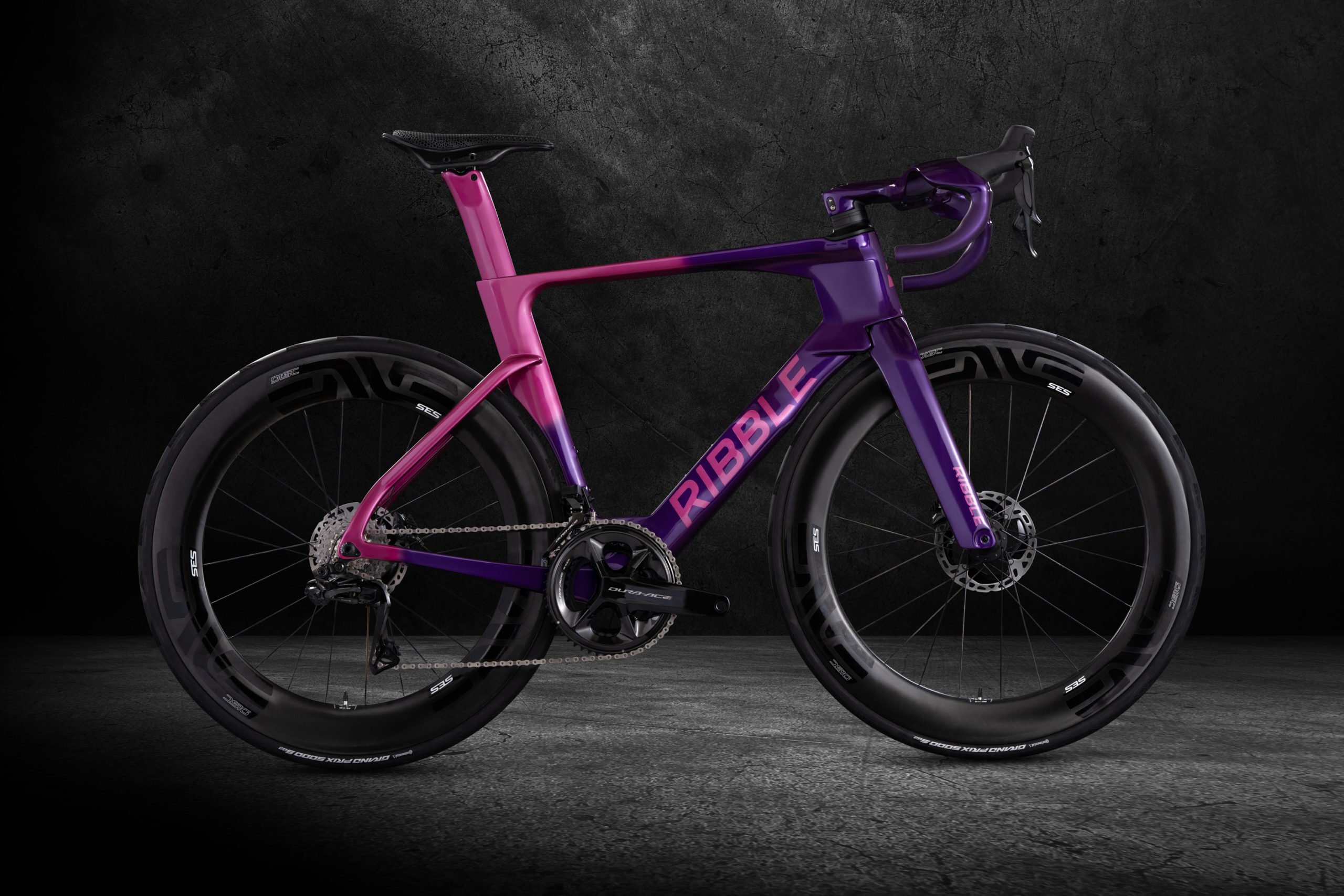 Created for the Rouleur Cycle Show, this stunning Ultra SL R features a Purple into Pink gradient.
---
One of the most important components to improve the performance of a bike, a good set of wheels can make or break a ride. Here we highlight our range of Level wheels.
---
Ribble R872 or Endurance SL, what's the difference and why should you choose one over the other. Read our blog for an in-depth look at the differences and benefits of each.
---
With social distancing resulting in more people choosing to ride bikes we look at electric bikes and ask are they right for you? Read it here.