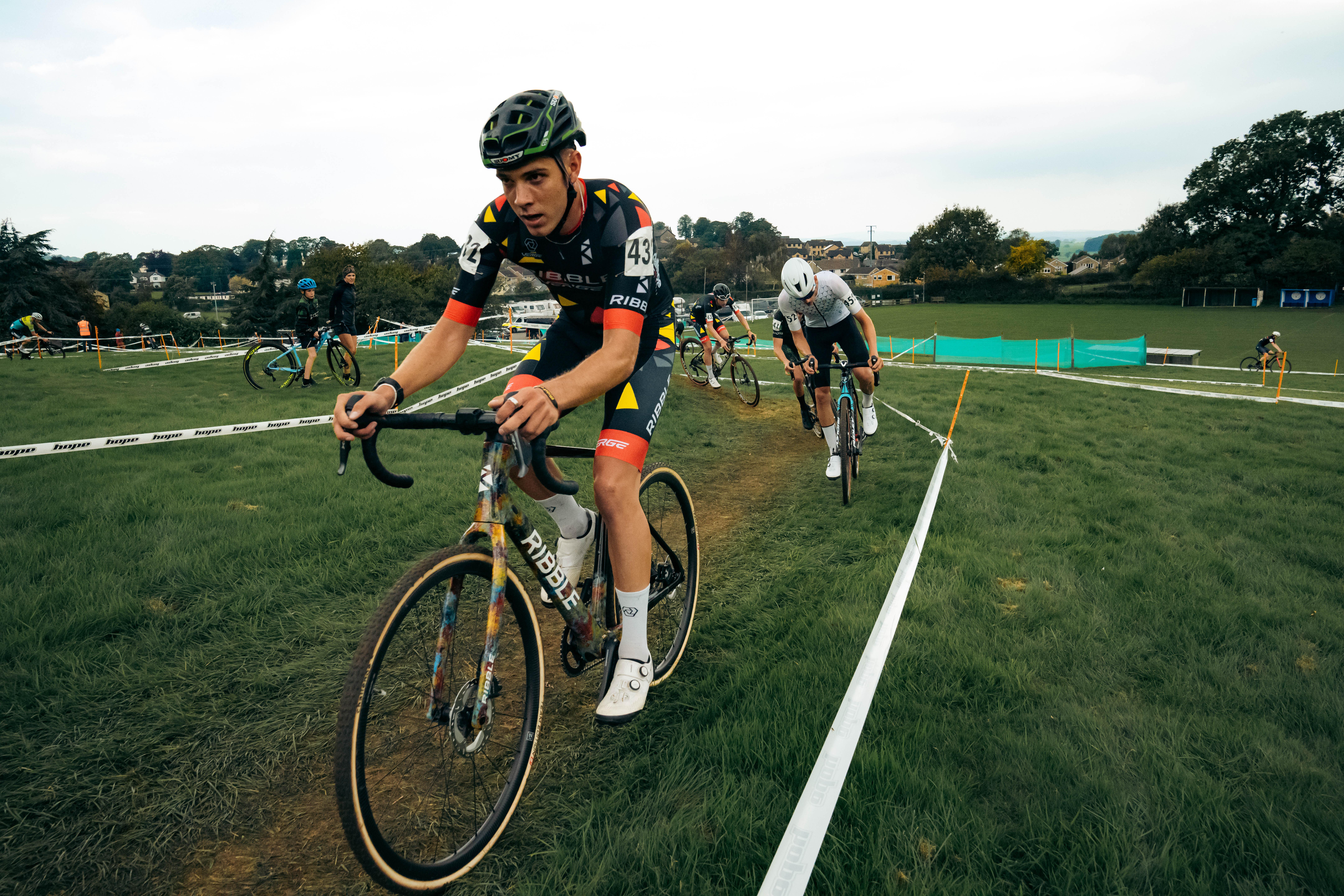 Ribble - Verge - The Dawn of a New Era
September 22, 2023
We are delighted to announce our continued sponsorship of the cyclocross team formerly known as Garden Shed for another year. The team will henceforth compete as Ribble - Verge.

This rebranding will also see the riders kitted out with brand new CGR SL team bikes. Albeit a CGR SL with an extra special twist. Our in-house paint artists have excelled themselves in producing a jaw-dropping custom colour design that has to be seen to be believed. The new race machine looks resplendent in a team exclusive 'floral marble' design, which in combination with a disruptive new team kit is sure to make Ribble-Verge riders stand out from the crowd.

To many, Garden Shed will be a familiar name on the cross racing scene. After all, their riders have practically dominated many of the races they've entered for a number of seasons now. In fact, it's rare that a race weekend does not see at least one or more of their riders gracing the top steps of the podium. Formed back in 2019, the development team has nurtured some of the country's finest young cycling talent, helping them better prepare for the transition to the elite ranks.

With the assistance of various sponsors (Ribble included), the team has amassed an impressive palmarès of race victories. The most notable of these being National Trophy and Championship titles, victory at the prestigious Koppenberg Cross in Belgium and perhaps the most noteworthy of all, third place at the 2022 World Champs in Fayetteville, US.

Ribble's Role

Ribble's involvement with Ribble-Verge (Garden Shed) began a couple of seasons ago, when they became the official technical partner, supplying the team with materiel support. This saw the riders equipped with Ribble CX SL bikes for the entirety of the 2021/22 and 2022/23 campaigns. In the new role as one of the two main title sponsors, Ribble will now focus on raising the profile of both riders and team. With the aim of seeing each rider realise their dream of competing on the international stage. And who knows, even going as far as making it to the promised land of the World Tour.

CGR SL Team Edition

The 2023 cross season will see Ribble-Verge kitted out with this exceptionally pretty and highly capable CGR SL. The new race machine features a team exclusive 'floral marble' design that's sure to turn heads wherever they race. For anyone left wondering at the origin of the CGR name, we should probably clear up what the acronym CGR actually stands for. The initials literally translate to Cross, Gravel, and Road. Thus, giving some insight into the exceptional versatility offered by this lightweight yet robust carbon all-road machine.

CGR SL Frameset

The CGR SL frameset is manufactured from a carefully selected blend of Toray T1000 and T800 carbon fibre. Each individual fibre is layered to an exacting specification using an advanced monocoque mould technology, incorporating an EPS inner core system which ensures complete consistency of the structural integrity of the fibres and resin throughout. The very epitome of attention to detail, it shares the same aero-enhancing tube shapes and profiles as the Endurance SL R, which has been successfully ridden to countless victories in the pro peloton.

Shimano GRX Di2 Groupset

Developed specifically for mixed terrain riding, Shimano GRX Di2's off-road gear range, optimised ergonomics, and rugged reliability lets everyone from CX racer to gravel adventurer explore beyond the paved and predictable. GRX RX815 places the digital precision of Shimano's Di2 electronic shift system at your fingertips. Smoother gear shifts, reliable braking, and exceptional all-terrain comfort all combine to provide a more dynamic ride experience. Di2 puts you firmly in control.

LEVEL 5 One-Piece Carbon Cockpit

The LEVEL 5 carbon integrated handlebar system takes cable integration to the next level. It allows every cable to be fully hidden and protected from the elements for for a clean, cable-free aesthetic, while reducing drag in all instances by up to 40% when compared to a standard handlebar and stem setup. With its reassuringly stiff carbon monocoque construction and all-day ergonomics, the LEVEL 5 system is ideal for the speed-conscious rider who places a premium on performance and aims of reaching the top step of the podium.

---

2023 Rider Roster

As befits a development team, the rider roster is always in a state of flux come the end of every campaign. This season is no different, with a couple of young guns joining the fold. Thereby, ensuring that though there may be new faces Ribble-Verge still remains the team to beat.

Jenson Young

At 22 years of age, Jenson finds himself making the step up to the elite category in 2023. He will be looking to build-on a promising 2022 campaign that saw the Yorkshireman podium on four occasions and secure a number of top-10 finishes.

Toby Barnes

Last year's National Trophy Series winner is back for his second season with the team. After tasting success last season his appetite remains undiminished as he bids for national glory once more.

Oli Akers

Ollie has been a stalwart of the team for the past five seasons. With no less than eight victories to his name last season, the team has high hopes that OIllie will emulates this success as he makes the step up to U23 level.

Joe Coukham

It's Joe's second year with the team and like Jenson he has made the move up to the elite ranks. The season may yet be young, but he has certainly started with a bang, notching up three top tens in the same number of outings.

Zoe Roche

It may only be Zoe's first season with the team, but she's already displayed her incredible talent, taking victories in her opening events. Young she may be, but Zoe has already amassed an impressive record of race wins in both the MTB and CX disciplines and will compete for Ribble-Verge at U16 level this season.

Leon Atkins

Another riding enjoying his second spell with the team is Leon Atkins. He too will race at U16 level, and is certainly one to keep an eye on this season, especially after tasting victory at one of his first races.

Joe Hurt

Another newcomer to the team, Joel is a second year junior and is on an upwards trajectory. He will be hoping to improve on the five top ten's secured in 2022.

---

How does a bike for life sound? Lighter than steel yet just as robust, a high-quality titanium can literally be your lifelong riding companion. Discover the key performance features offered by our titanium range in our guide.

---

Are you looking to take your cycling adventures off-road. A gravel bike lets you venture off-road, exploring the many byways and bridleways that crisscross the UK. But how do you choose the right bike for you? Our gravel buyers guide will help you find your perfect gravel bike.