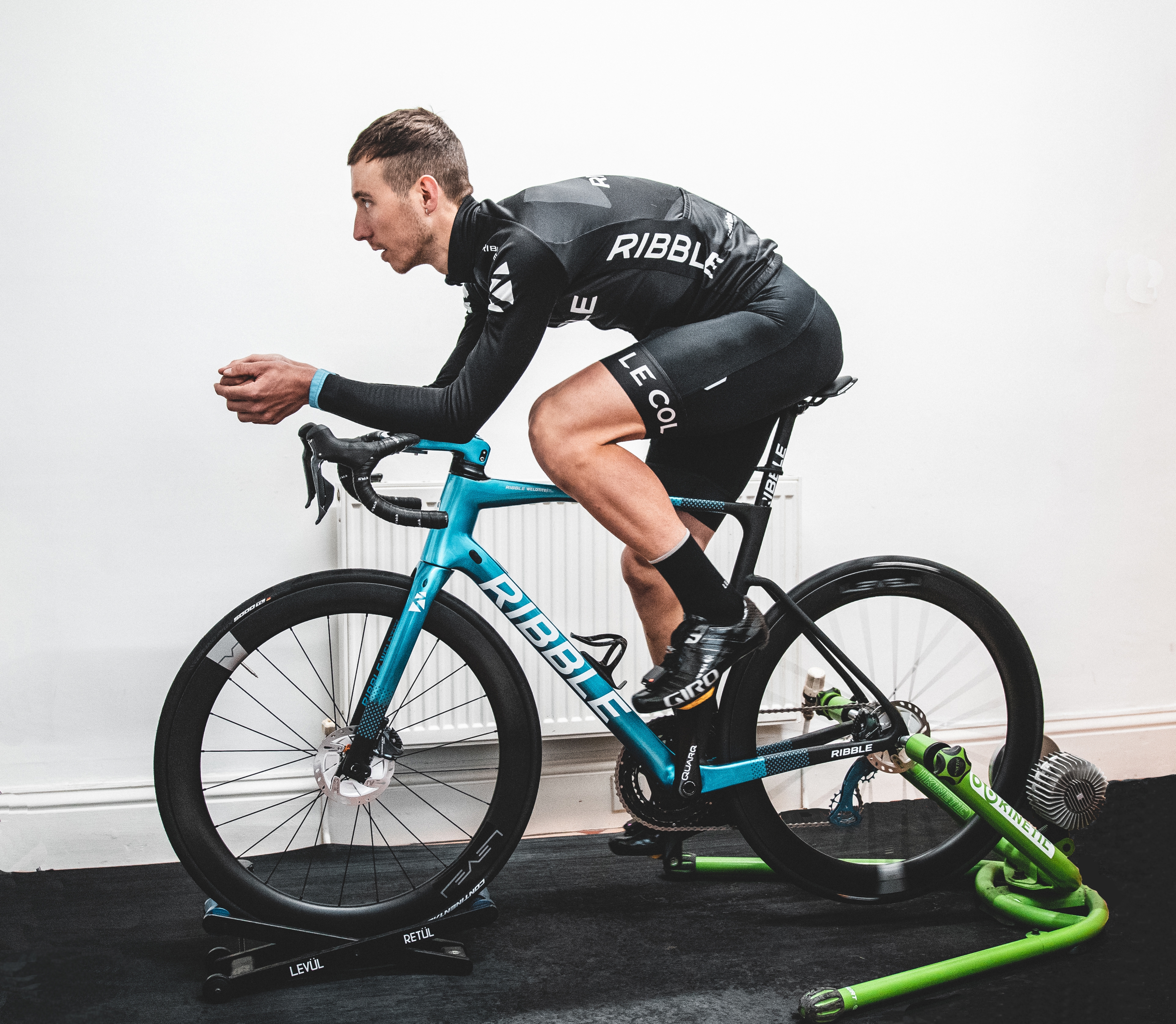 The first chill of the season often signals the start of indoor training season. Third-party apps like Zwift make winter workouts a far more attractive proposition, transporting you to a virtual world where you can race fellow cyclists across the globe. However, if you're not familar with the various axle designs employed on today's bikes, you may find yourself a little flummoxed when it comes to mounting your pride and joy on any indoor you may wish to purchase/already own. In this guide we explain what you need to ensure fuss-free fitment to ensure the conversion to indoor training goes off without a hitch.

Whether you're looking to purchase a new trainer or wish to fit your Ribble bike to an existing model, it's essential that you first check compatibility. Fail to do so, and you may just find that your trainer isn't immediately compatible with the latest thru-axle standard of Ribble disc brake bikes. And even if it is, you may need adaptors to make it work.

Does fitting my bike to an indoor trainer affect my warranty?

It's a question we hear often and is a perfectly understandable inquiry. Especially when you consider the fact that not too long ago fitting a carbon bike to an indoor trainer would void your warranty. Thankfully times have changed, and all models in the current Ribble lineup are perfectly safe to use on indoor trainers. As long as the bike is secured according to the trainer manufacturer's guidelines, that is. Any failure that occurs as a direct result of incorrect fitment or accidental damage (i.e. falling off) is liable to void your warranty.

Electric Bikes

To the best of our knowledge, there isn't a model or brand of indoor trainer that offers compatibility with the Ribble e-bike range. Our e-bikes all utilise the MAHLE X35+ hub motor system, which features a bolt-on style axle in lieu of the more typical thru-axle design. The oversize axle nuts that secure the rear wheel to the frame are too large in diameter to fit both wheel-in and wheel-out trainers. However, it should be noted that we aren't saying that it's impossible to fit a Ribble e-bike to an indoor trainer. It might be possible to retrofit an indoor trainer to accept your Ribble e-bike, but that doesn't necessarilt mean you should. If you do manage to conjure some way to make it work, you may just find your warranty may be void is soem mishap occurs as a direct result on the retrofit. We would always advise you to contact us if you're ever in any doubt.

A close-up of the Gravel AL e's rear hub clearly highlights the oversize wheel nuts that make this type of axle incompatible with indoor trainers.

How will I know if my bike is compatible with a specific model of indoor trainer?

This will depend entirely upon which type of bike you own and, more specifically, the means by which the rear wheel is secured. The two most common methods for securing the wheel are the traditional quick-release skewer of rim brake equipped bikes and the bolt thru-axle of their disc brake equivalents.

Types of Trainer & Axle Fitting

We may be oversimplifying this slightly, but there are essentially two types of indoor trainers. The classic wheel-on trainer has been around for what feels like forever and offers a great value option for anyone who wishes to train on a tight budget. The direct drive (wheel-out) trainer, on the other hand, is a recent addition and provides you with a ride experience that is more akin to that of riding on the road.

It should be noted that it isn't possible to connect to popular training apps like ZWIFT when using the most basic models of wheel-in trainers. To use such apps, you would first need to pair the trainer with a speed/cadence sensor or crank/hub-based power meter. And even then, you won't be able to access the variable resistance offered by more expensive smart trainers.

Direct drive trainers, on the other hand, should nearly always be smart-enabled, and include the extra functions required for capturing training data when using thrid-party apps like Zwift. Not only do they offer more accurate training data, but they aren't prone to the vagaries in power readings that affect the less expensive wheel-on types. So, if your budget stretches far enough, a smart direct drive trainer will be far more beneficial in the long term.

Wheel-On Trainer (Classic Trainer)

The first and most basic type of trainer is the classic wheel-on type. The rear wheel remains in-situ and raised off the ground, with the tyre resting atop a roller situated within the resistance unit. A folding A-frame clamps the wheel axle securely in place, while the front of the bike is similarly raised by way of a front wheel riser block (or yellow pages/phone book if you're old school, and they still exist?).

Wheel-on trainers like that pictured above allow you to train indoors, but if you wish to use training apps like ZWIFT, you'll need a SMART interactive model.

Quick Release/Bolt-On Axles

Any bike that uses quick-release skewers or wheel nuts can usually be mounted straight into wheel-on trainers without issue. Manufacturers such as Tacx and Wahoo even supply a replacement skewer, so you can swap out your 'best' skewer to prevent it from the cosmetic damage incurred when continually clamping it up.

More rarely still is the disc brake bike that uses quick-release skewers (the Ribble CGR AL of 2017 is one such model). These can be fitted in exactly the same way as described above.

Bolt Thru-Axle

The majority of disc brakes won't be compatible with the wheel-on trainers straight out of the box. A thru-axle sits flush within your frame's dropouts, so there's literally nothing for the 'arms' of the trainer to clamp to. A thru-axle adaptor provides the necessary anchor points to secure the bike safely within such a trainer. However it should be noted that you must order an adaptor that matches the correct length and thread pitch as your bike (see axle dimensions section below).

Bolt-On (Track Nuts)

Not to be confused with bolt thru-axles, the traditional bolt-on axle uses wheel nuts to secure the wheels to the frame. Or track nuts if you are a seasoned track rider/fixie enthusiast! Fixed-gear and single-speed bikes are typically the only bikes that use this type of fitment. The arms of the trainer should clamp onto these track nuts at the end of the axle. However, if these happen to be the wrong diameter, you can purchase manufacturer-specific replacements online.

It should be noted that Ribble e-bikes also use a bolt-on style fitting, but these may be too large in diameter to clamp safely into the arms of most wheel-on trainers. We have no way of ascertaining if this will be the case for specific trainer models. We would therefore advise against trying to use such a bike on any model of indoor trainer.

The image above illustrates the method by which singlespeed/track wheels are secured to your bike.

Wheel-Off (Direct Drive)

The wheel-out trainer offers a more intuitive and authentic ride experience. It helps you connect seamlessly to third-party training apps, so you can immerse yourself in racing alongside fellow cyclists around the world.

Direct drive in design, it's necessary ro remove the rear wheel so the bike can be mounted directly to the trainer. Therefore you need to either remove the cassette from the wheel and attach it to the trainer every time you wish to train. Aletrnatively you could make the smart play (sorry,not sorry) and simply purchase an extra cassette specifically for the trainer. When it comes time to train, you can then simply remove the wheel, plug and play.

Direct drive trainers typically supplied with a variety of adaptors to suit most bike types. This includes bikes with quick-release skewers, in addition to road (142mm) and MTB (148mm) thru-axles.

Once again, we should reiterate that, to our knowledge, such a trainer is not compatible with any electric bikes that use the MAHLE X35 hub-mounted motor system due to the bolt-on style axle.

What's included in the box

Due to there being countless brands and models of trainers on the market, we would always recommend that you check the manufacturer's website for details of what accessories are included with the model of trainer you wish to purchase/already own.

Axle Dimensions

When it comes to determining what details you need to ensure bike-trainer compatibility, you only really need arm yourself with the following information:

Dropout spacing: This is the distance between the frame's rear dropouts (where the wheel fits into the rear end). A road bike with quick-release axles should always measure 130mm. Whereas a disc brake road bike will in almost all instances be 142mm and MTB 148mm.
Axle Dimensions: M12 refers to the overall thickness of the axle. The largest number is the overall axle length (not to be confused with dropout spacing). P1.5 or P1.75 refers to the thread pitch and must always match the frame. A frame that requires a thru-axle with a 1.5 thread pitch cannot accept a 1.75 and vice versa.

It should be noted that total axle length is included for reference only and has no direct bearing on trainer compatibility.

If we use any of the aero road bikes, gravel bikes, hybrid bikes, endurance road bikes, cyclocross bikes and all-road bikes from the table below, for instance, you will see that they all require 142 x 12mm adaptors. Whether that's adaptors supplied with the trainer itself or purchased as an optional extra.

*These models have recently been updated, and as a result, the axle length has changed. This does not affect trainer compatibility.

We hope this guide proves useful in helping you work out which trainer type suits your needs best and what you need to guarantee compatibility with your Ribble bike. If you still need further advice or assistance, our customer service team is always here to help.

---

Winter is hard on your bike and components; find out how best to protect your ride with our winter riding guide.

---

Gravel bikes are great to ride whatever time of year; discover the Ribble range here.