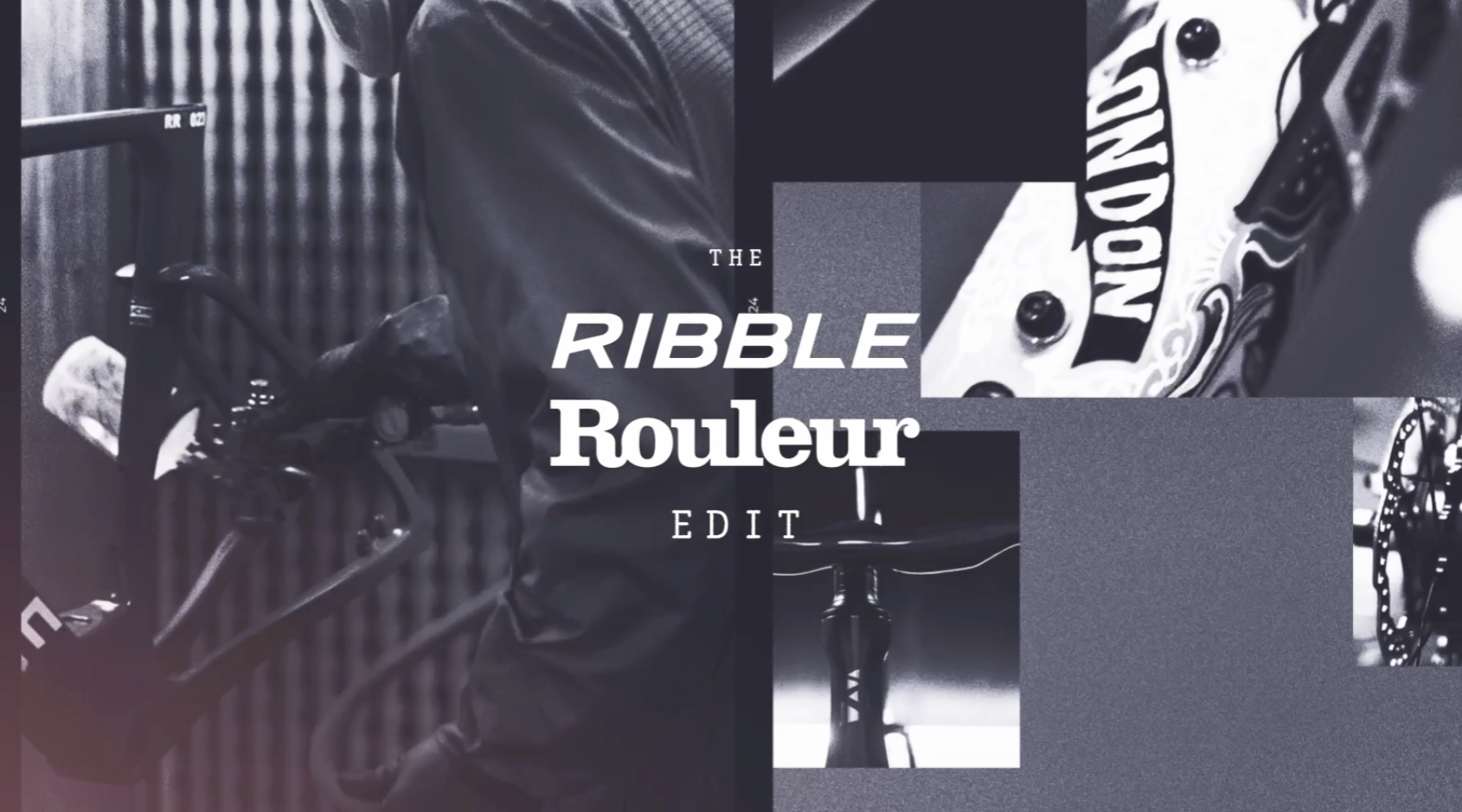 The Ribble Rouleur Live Roundup
November 7, 2023
Ribble certainly pulled out all the stops for Rouleur Live, curating a jaw dropping collection of bikes that drew covetous eyes to stand 192. 'The Edit' showcases five stunning models, each making their world debut at London's iconic Truman Brewery on Thursday the 2nd of November. These show-stopping designs exemplify the British brand's heritage and dedication to industry-leading craftsmanship, innovation, and design. 'The Edit' displays premium paint schemes and finishes that reflect the highest level of artistry in custom hand-built bicycles.

The Rouleur Live lineup included: a bespoke 'hand inked' Ultimate Urban e-bike conjured from the imagination of world-renowned London artist Vic Lee; a hand-marbled Gravel SL straight from the Gravel Worlds; a distinctive etched and brushed finish Titanium Allroad prototype incorporating strokes of 'Marble Ice'; a unique Ultra SL R Forces Edition with a military inspired design to coincide with the Royal British Legion's London Poppy Day Appeal and a featherlight, sub-UCI weight limit Endurance SL R complete with a resplendent and exuberant mixed metallic paint finish. All bikes exhibit exquisite artistic hand finishing techniques, attention to detail, and top-spec componentry.

Ultra SL R - Forces Edition

The Ultra SL R Forces Edition takes artistic inspiration from the legendary WWII Spitfire fighter plane of WWII, adorned as it is with a green painted fuselage, D-Day invasion stripes and RAF roundel. It's design coincides with the launch of the Royal British legion's London Poppy Day on 2nd of November, which honours all our service men and women. It also heralds this year's RBL Poppy Appeal, the biggest annual fundraising campaign held during the period of rememberance in November.

Fittingly the design has been applied to our very own speed machine - the Ultra SL R. Ribble's aerodynamically optimised flagship road model features a Forces Edition paint scheme with an officially authorised one-off Royal British Legion logo adorned Kapz Titanium Top Cap to seal the 'best of british' brands union.

SPEC SHEET:

Frame & Fork: Ribble Ultra Aero SL R Toray T1000/T800 carbon monocoque.
Handlebars: Ribble Ultra Aero Carbon integrated handlebar – 380 x 120mm.
Groupset: SRAM Red eTap AXS 1x12 wireless electronic groupset – with CeramicSpeed OSPW.
Wheels: Zipp 454 NSW Carbon Tubeless Disc-Brake.
Tyres: Pirelli P Zero Race TLR Classic Edition, 700x30mm.
Seatpost: Ribble Ultra SL R aero carbon (10mm layback).
Saddle: Selle Italia SLR Boost 3D Kit Carbonio Superflow 3D-printed saddle.
Paint Scheme: Forces Limited Edition - design by Jamie Burrow.
Additional features: Custom "Kapz" headset top cap featuring Royal British Legion logo.

Endurance SL R Disc- Superlight Edition

The Superlight Edition of our flagship carbon endurance bike, the Endurance SL R Superlight is custom built to come in under the UCI's weight limit. It features a rich 'Purple Haze' mixed metallic paint finish and gold decals as imagined by Ribble's Head of Product, Jamie Burrow and realised by Ribble's in-house paint specialists.

SPEC SHEET:

Frame & Fork: Ribble Endurance SL R Disc (Toray T1000/T800 carbon monocoque).
Handlebars: LEVEL 5 Carbon integrated handlebar system – 400 x 90mm.
Groupset: Shimano Dura-Ace Di2 R9100 2x12-speed groupset – with THM Clavicular chainset.
Wheels: Mavic Cosmic Ultimate 45 Disc.
Tyres: Pirelli P Zero Race SL TLR, 700 x 26mm
Saddle: Selle Italia SLR Boost Tekno Superflow Carbon.
Paint Scheme: "Purple Haze" - design by Jamie Burrow
Weight: 6.6kg.

Ribble x Vic Lee - The Vic Lee E

The collaboration between Ribble and award-winning 'inkist' Vic Lee has produced the ultimate urban e-bike. Hand-painted by Vic, this colourful art-piece is inspired by a bike ride from the brand's original store on the banks of the River Ribble in Watery Lane, Preston to the Rouleur Live venue at the Truman Brewery in London. The journey depicted visually expresses the joy and freedom of cycling and interweaves the narrative with the cities, iconic locations, tow paths and twisting roads to Shoreditch.

Vic Lee has 'inked' the entire frame, fork, seat post and bar in his own style working on a base layer specially mixed and created to allow Vic's work visually pop.

SPEC SHEET:

Frame & Fork: 6061-T6 Alloy frame with carbon fork - Vic Lee E Signature Edition.
Handlebars: FSA KFX SiC Integrated ICR 740mm carbon flat bar with 65mm stem.
Transmission: SRAM eTap AXS XPLR 1x12-speed groupset with Hope RX Crankset and spiderless chainring.
Brakes: Hope Tech 4 Levers combined with X2 calipers and Hope floating rotors.
Wheels: Mavic Cosmic SL45 with MAHLE X35+ hub drive electric motor.
Tyres: Pirelli Angel GT Urban, 700c x 42mm.
Seatpost: LEVEL 3 inline carbon monocoque, 27.2mm.
Saddle: Brooks Cambium C15 Carved, Black.
Paint Scheme: Special Edition Ribble x Vic Lee.

Allroad Ti - Prototype

The all-new Allroad is a 3Al/2.5V protoype titanium frame has been created with additive-manufactured head-tube and seat-tube clusters. This process was specifically selected for it's ability to further enhance the design and improve aerodynamics, with internal cable routing, integrated seat clamp and the ability to blend optimised tube profiles. Furthermore, it provides us with the freedom to create frame shapes with exceptionally high strength-to-weight ratio's, which are better able to cope with more multi-directional loads. Additionally it allows material to be placed with utmost precsion, adding material where its need to deal with specific stress-points, in direct contrast to more traditional techniques like CNC milling where you cannot access intricate areas as you can with a 3D printer.

SPEC SHEET:

Frame & Fork: 3Al/2.5V titanium frame with additive-manufactured head-tube and seat-tube clusters, paired with a carbon fork.
Cockpit: Ribble RS-2 Prototype stem paired with Ribble UB-2 Prototype carbon aero handlebar.
Groupset: Shimano Dura-Ace Di2 R9100 2 x 12-speed electronic groupset.
Brakes: Hope RX4+ disc brakes and Hope 160mm rotors.
Wheels: Hope RD40 Carbon with Pro 5 hubs.
Tyres: Pirelli Cinturato Gravel H Classic, 700 x 35mm.
Seatpost: LEVEL 3 inline carbon monocoque.
Saddle: Selle Italia SLR Boost 3D Kit Carbonio Superflow 3D-printed saddle.
Paint Scheme: Raw titanium frame with brushed finish; fork & cockpit "Ice Marble" – design by Jamie Burrow.*

What else did Ribble have going on?

Also present on the Ribble stand was this dirt encrusted Gravel SL, fresh from the Gravel Worlds. Presented to Ribble Collective rider, Metheven Bond, just prior to him jetting out to Italy, the bike still exhibits the Venetian dust that was a feature of this gruelling race. The Gravel SL team bikes that equipped the Ribble Collective members of Team GB form part of our Stone Collection - a unique series of three CustomColour hand painted paint schemes that represent the natural landscapes that define gravel riding.

Spec

Frame & Fork: Ribble Gravel SL (Toray T1000/T800 carbon monocoque)
Cockpit: LEVEL 5 Carbon integrated flared, 380x130mm.
Groupset: Shimano GRX Di2 1x11-Speed electronic.
Wheels: Zipp 303S Carbon Tubeless Disc-Brake.
Tyres: Panaracer Gravel King SK.
Seatpost: Ribble SL Carbon, 5mm layback.
Saddle: Fizik Antares R5, Kium Rail.
Paint Scheme: Ribble Stone Collection, Slate colourway.

Ribble Collective rockstar Maddy Nutt also made a guest appearance, joining host Rachel Jary and ex-World Tour pro Nico Roche on stage to give their take on why gravel is widely considered the most inclusive cycling discipline. Maddy has enjoyed a season to remember, travelling the world to compete at the most prestigious gravel races and collecting several victories and podiums along the way.

---

Win your very own Vic-lee designed tee-shirt with our competion giveaway. Enter today for the chance to own a real collectors item.

---

Discover the story behind Ribble Collective rider Maddy Nutts transition from city financial analyst to World Championship gravel racer. Read about it here.