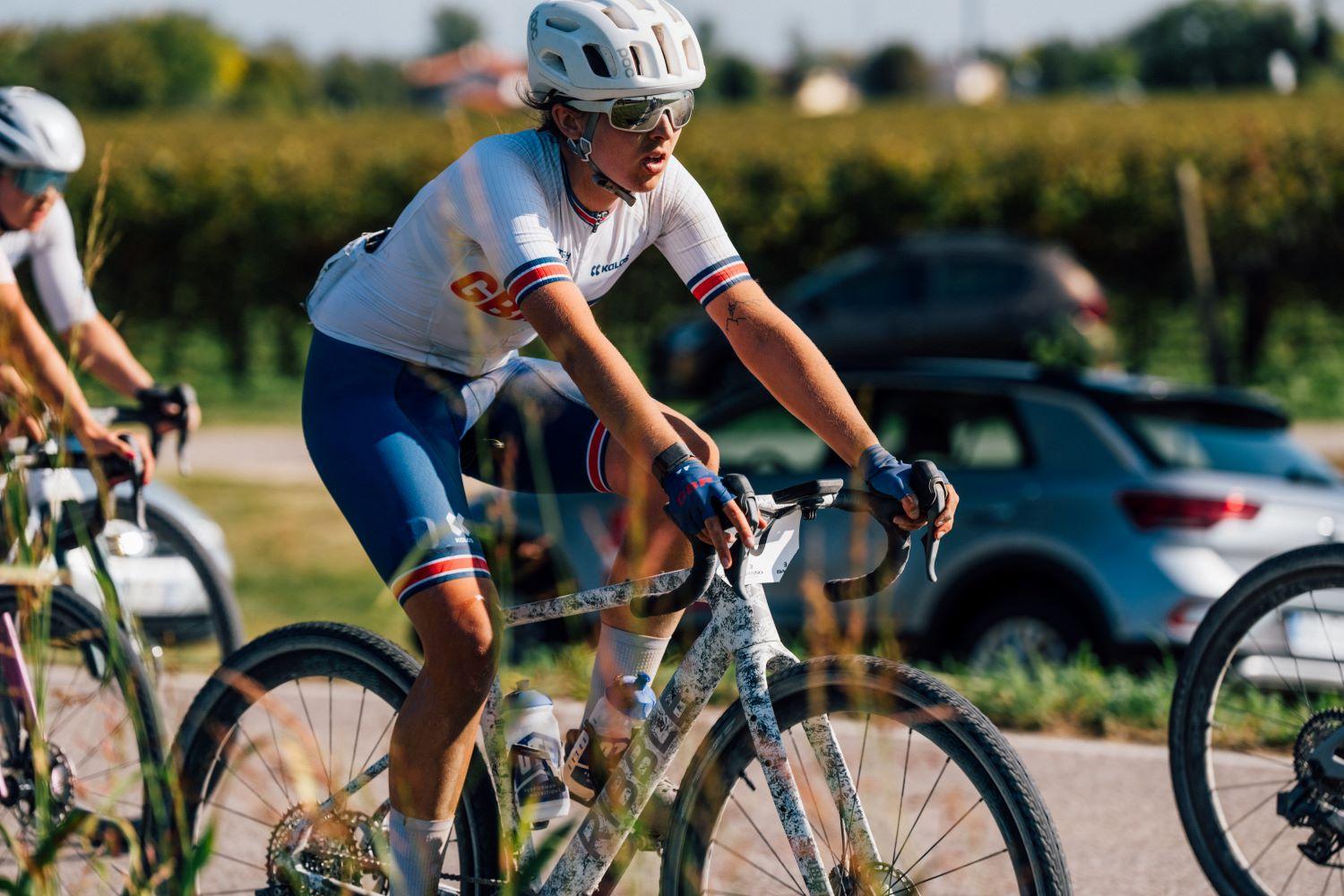 Maddy Nutt - City Finance Analyst to Gravel World Championship Rider
October 24, 2023
Maddy Nutt may be an unfamilar name to many. After all, as recently as 2021 she found herself employed as a financial analyst for world renowned investment bank Goldmans Sachs in London. But like many pro cyclists before her, the prospect of 12-hour days cooped up in a stuffy office held little appeal. So, seduced by the allure of the open road, Maddy pressed pause on her fledgling career in finance to pursue her dream of racing alongside the world's top pro cyclists. A brief flirtation with road cycling ensued, but it was a chance opportunity to ride Grinduro that ignited her passion for off-road racing.

So began a roundabout journey that eventually brought this talented rider to the Ribble Collective team. And what a maiden season Maddy has enjoyed, with her podium at the Gravel Earth Series being the outstanding highlight. During 2023, Maddy has literally criss-crossed the globe, racing her Gravel SL gravel bike in the world's most prestigious gravel races. All culminating in the honour of representing Team GB at the recent Gravel World Championships in Veneto, Italy. We caught up with Maddy to discover the backstory to her journey from finance whizz to World Championship pro gravel racer.

Left: The effort is there for all to see. Right : The thousand yard stare tells the story of a punishing race that did not go exactly to plan.

Maddy, we think you'll agree, 2023's been pretty successful for you. Racing Unbound, FNLD GRVL, the Gravel Earth Series and representing Team GB at the Gravel World Champs - what led you here?

I competed in triathlon as a kid but stopped when I was 11 or so, and didn't touch a bike again until I was 20 years old.

When I was 20, I had dropped out of Durham university and was seeking some life purpose whilst deciding what I was going to do with my life and what/where I was going to study next. I took up running, mainly for the sake of my mental health and joined my old triathlon club in London to make connections whilst keeping fit. Eventually I acquired a second-hand bike, and fell in love with cycling almost immediately. Within a couple of years, I was spending all my spare time riding the bike, and it became a more and more important part of my life. Pre-pandemic, I'd competed in a few local bike races, simply to give racing a go. However, I ended up winning my age group in the ETU standard distance duathlon the week before lockdown.

When lockdown arrived, I found myself riding my bike every day. Or at least, as often as time would allow. And with the additional time spent riding my bike came increased fitness. Fast forward to a post covid world, where I joined a local race team and gave crit racing a go. It really all took off from there!

Why do you ride?

I absolutely love the independence and freedom cycling brings. Riding my bike makes me feel so powerful. I can literally take myself off wherever I want to go and adventure to places others can't.

When it comes to choosing between Gravel or Road, which do you prefer?

100% gravel without question. Gravel gives me the freedom to adventure much further and explore far flung corners that can only be reached by two wheels. The technical element also requires me to use my brain more!

How do you prepare for a race both mentally and physically?

To be honest, this is still not something I have nailed down, even now. Physically, I trust my coach and stick to my training plan as best I can. I try to rest before every race, but this is often quite difficult due to the travelling times to get to such events when they can be as far afield as the US, Mexico, or even Kenya. Mentally, I try not to think about the race too much and just concentrate on enjoying myself. At the end of the day, I race because I love it. Overthinking pre-race would make me feel stressed and not necessarily enjoy what it is I'm doing.

Who has had the most influence on your cycling career & why?

That would be two fellow Ribble Collective members, Amira Mellor, and Mikey Mottram. When I joined the same team as them last year, they were both really supportive and encouraging. I was incredibly new to the sport, and both were quick to take me under their wing and showed belief in me as a racer. I wouldn't be where I am today without either of them.

Ribble Collective - what is it and how does it work?

The collective is a group of privateer riders supported by Ribble. We are a diverse group in terms of our riding, each focusing on different race disciplines, whilst encouraging and supporting each other. The collective gives us the freedom to devise our own race calendar, so we are free to choose when and where we wish to race.

Best race so far & why?

The Traka 360 without a doubt. The challenge itself was so satisfying to complete, and finishing on the podium after such a soul emptying day was the cherry on top of the cake!

You ride a Ribble Gravel SL - describe your race set up

I change my set up depending on the race. The key to success for me is chain ring size; a hillier course requires a smaller chain ring. Other than that, I run an 11-40T cassette, and I prefer narrower bars (38s). Tyres are also swapped out depending on the terrain, with longer more gruelling races requiring wider tyres for the extra comfort they afford.

Unbound USA has been described as the hardest gravel race in the world – take us through your race and post event thoughts…

A punchy, brutal race with conditions that shocked most of its participants! Unbound really threw the elements at its racers. If a challenge of 205 miles of gravel wasn't enough, the three mile 'peanut butter' mud section at mile 11 of the course, took several riders out of the race, and severely eroded the morale of many!

Unsuspectingly, I rode straight into the cement-mud, only to lock up my wheels almost immediately, forcing my bike to a sudden stop. The sight of discounted riders, walking or lying in the mud, with broken bikes flying everywhere was something that I simply cannot do justice to description-wise. It could best be described as something akin to a scene from an apocalyptic movie.

I found myself stuck on the side of the course with only a plastic knife from our RV to aid me and a mammoth mud removal task unfolding in front of me. So, I endeavoured to get my bike rolling again, only to find myself making incredibly slow progress over this horrendous section, with my ever-present enemy 'the mud' causing constant issues. My chances of an impressive race result for me evaporated in from of my eyes as time ticked away and I made very little forward progress. Thankfully my internal stubbornness and motivation to make it through the day remained unwavering.

The rest of the day was spent battling through the various weather conditions that rural kansa could conjure up. It was hard to believe that such drastic weather changes could be naturally occurring. The oppressive heat made remaining hydrated a challenge, but the heavens soon opened. When paired with a thunderstorm and some lightning strikes it made for a very uneasy experience!

After a day spent in the saddle battling against one of the most brutal races I have ever faced, I rolled over the finish line, with relief and pride flowing through me. I felt validated in how challenging I had found the event when I heard the experiences of other racers who also expressed the brutality of the course and day. Unbound 200 was most definitely a challenge!

Encouraging women to take up sport is hugely important - what words of advice and encouragement would you offer?

I always think it's such a shame when young women give up on sport. It's so empowering and can be life changing. I think we all play a key role in encouraging and inspiring women to keep participating in sport, regardless of what level it is. If I could ever be a role model for young women, that would really fill me with joy.

In 3 words how would you describe yourself?

Enthusiastic. Calm. Jovial!

The Race Bike

Maddy and the rest of the Ribble Collective riders competing at the Gravel Worlds unveiled new Gravel SL race bikes, issued especially for the event. The new bikes featured a brand-new Stone Collection paint finish that's exclusive to our Gravel range. This exceptionally pretty design takes inspiration from the rugged, rocky terrain that they are designed for. Another unique aspect of the Ribble Collective is that each rider is free to form partnerships with their own equipment sponsors, hence Maddy rocking some distinctive Parcours wheels throughout the 2023 campaign. The spec list for her World Champs race rig looks something a little like this:

Ribble Gravel SL Carbon Monocoque Frame & Fork - White Marble Colourway
Shimano GRX Di2 1x-11-Speed Groupset
LEVEL 5 Carbon Integrated Handlebar System - White Marble Colourway
Parcours wheels matched with Vittoria Terreno Dry 38c tyres

---

How do you decide which frame material is perfect for your gravel bike? Read our guide to discover the key advantages offered by each material in the Ribble Gravel range.

---

Stuggling to decide which gravel bike is right for you? Maybe our gravel bike guide can serve as inspiration.