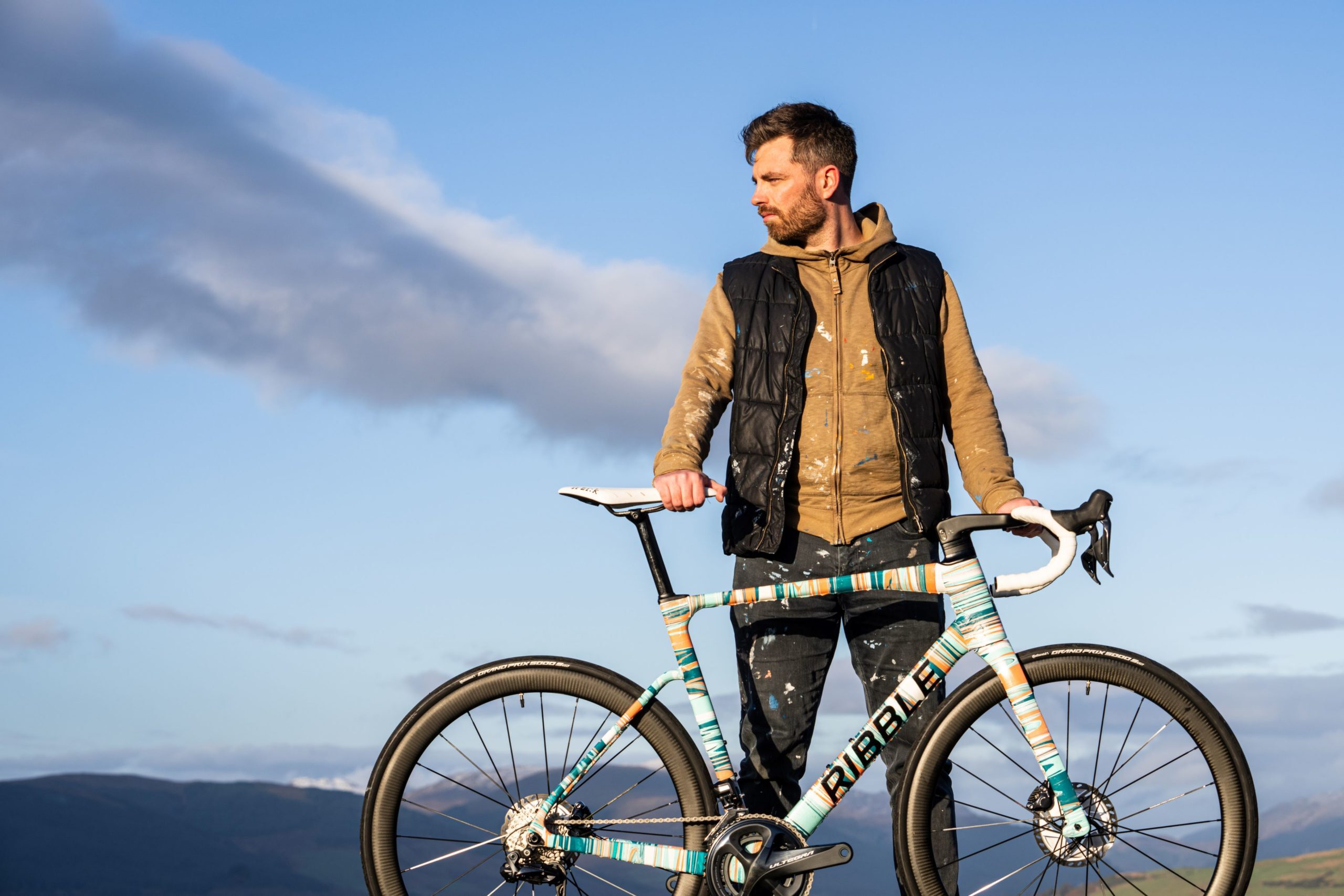 Ribble x Craig Black - Acrylic Fusion Endurance SL R
January 11, 2022
Ribble has always had an idea - to explore the possibility of a collaboration with a leading UK artist. With the goal of conceptualising the artist's vision and unique skillset to create a one-of-a-kind frame design. So, when the opportunity presented itself to collaborate with an artist of such global renown, the stars very much aligned. Ribble, therefore, challenged Scottish artist Craig Black to create a bespoke, acrylic fusion colourway design for the flagship Endurance SL R carbon frameset. Read on for the full story of Craig Black's Acrylic Fusion masterpiece.
https://www.youtube.com/watch?v=nUoZ4u\_j38M
"I love the idea of the mystery unfolding."

Craig Black
Craig Black is a Scottish Visual Artist whose signature expression is 'Acrylic Fusion'. He uses this mesmerising technique to bring art to life by creating beautiful patterns in unique and evocative ways. Craig's incredibly versatile process involves hand pouring layers of acrylic paint to create exquisite one-of-a-kind colourways. Such is the nature of the technique, no one design can ever be replicated in quite the same way again. Specialising in bespoke artwork, murals, and installations, Craig believes in maintaining the originality of his work across every project that he undertakes.
"I love how my artwork is brought to life in front of people."
Craig picks his collaboration partners carefully and only ever seeks out projects that align with and complement his style and ethos. Thus, ensuring that no two partnerships or projects are ever the same. The versatility of acrylic fusion has enabled him to build up a formidable portfolio of collaborations with some of the world's leading brands. Partnerships that can be as diverse as matchday storytelling with UEFA to transforming cognac glasses with Remy Martin.
Anyone familiar with his work will attest to the vivid explosion of colour that Craig utilises within his bespoke visual creations. It's a talent that has won him, innumerable admirers, from all around the world. Leading to his works being exhibited as far afield as New York to Sydney and from London to Dubai.
As a company that embraces the ethos of innovation, Ribble's partnership with Craig was very much a conjoining of creative minds. Both parties were intrigued to see how his creative skills could best be utilised to unlock the mystery of how Acrylic Fusion could be applied to a carbon frameset. Ribble, therefore, challenged Craig to create a bespoke acrylic fusion colourway on the flagship Endurance SL R. The final design had to be bold, exciting and engaging whilst being a truly one-of-a-kind piece.
Craig takes much of the inspiration for his creations from the colour palette of the natural world. His location on the banks of the Firth of Forth affords him access to a veritable array of colours to use within his works. Craig infused these colours into his Acrylic Fusion design. Taking inspiration from the verdant slopes of the surrounding hills and the brooding, turbulent, white-capped waters of the Firth of Clyde.
Craig is delighted with the result of his collaboration with Ribble and loved the opportunity to combine his passion for sport and art to bring this project to life. The contrast between the vibrant colours of the acrylic design and Black and White componentry are sensational to behold.
The process of 'Acrylic Fusion' begins with mixing the desired blend of paints.

Each paint is then hand poured over the frame to create a mesmerising bespoke pattern.

The colours come together to form a unique colourway that can never be replicated.

Craig applies the finishing touches to his image of perfection.

The results of Craig's labours is this jaw-dropping and one-of-a-kind Endurance SL R frame.

Craig displays his new pride and joy in his Greenock studio.

Craig loves the contrast between the frame colours and the black and white componentry.
Why not design your own CustomColour Endurance SL R?
You don't have to break out the paint pots to conjure up your own magical colour creation. CustomColour in BikeBuilder gives you access to over 600 million colour combinations. So be as bold, bright, or as stealthy as you like - you decide the design and we will take care of the rest!
---
Want to add a CustomColour to your dream bike build? Find out how to use the CustomColour tool within BikeBuilder here.
---
How do you go about choosing the correct size road bike? Read our guide for our top tips to find out what size is right for you.
---